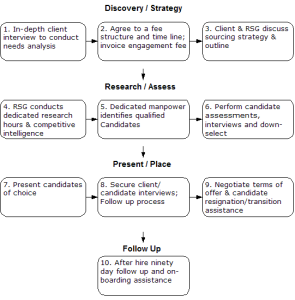 Unlike other firms, RSG does not disappear half way through the process. We let you know about any challenges, changes, and/or market place conditions that may require a response, a change, or a new approach to our agreed upon search process.
Once we are committed to a search, we will help our clients with internal issues as well; conducting interviews with potential internal candidate, as well as assessing and discussing possible back fill roles and larger succession planning needs.
Once candidates are in place in their new roles, we follow up on a regular basis with both client and candidate to make sure the match is indeed the right one.